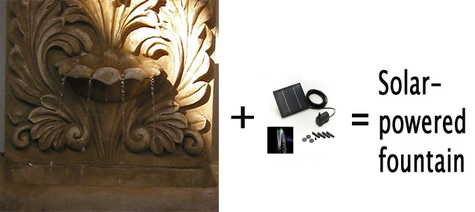 Here is the perfect solution to upgrade your garden water fountain into a Solar-Powered Fountain.
The elements shown above are: fountain + solar panel with water pump = Solar Powered Fountain
Fountain: The fountains are sold at establishments like OSH. In the past, I thought it was tacky that most of the fountains I've seen say "pump not included" on the price tag. But now I think that's perfect because I don't want a pump that plugs into the power grid, but one that plugs into the sun, via a solar panel.
This faux-stone fountain (see larger view), which is about 3 feet high, costs about $150. The pump fits inside the bottom basin and the water is pumped via a tube behind the fountain and up to the top. See that here. I found fountains at OSH and other stores for $50 and up. The key for me is to find a fountain with shallow places where birds can bathe and frolic. One deep well or bowl, for instance, will not work. This fountain has two shallow lips where water gathers and then spills over. The bottom bowl is a bit deeper and I might put rocks in there to create more places to perch. I realize that inviting birds to a fountain can cause problems with droppings and feathers that can clog the pump. But that's a price I will pay.
Pump and solar panel: The one pictured is a solar powered panel with a water pump system. This item costs $44.99 including a battery that charges the pump to run the fountain when the sun goes down. This setup pumps 47.5 gallons per hour, with a maximum lift of 20 inches. If the distance between where the pump sits and where you want the water to come out is more than that, you have to get a larger solar water pump here. My fountain is unique in that the pump sits up high underneath the second tier and the water gets lifted about 8 inches to the top tier, where it can spill over. See it here.
Referred from: Kathy's Remodeling Blog
http://latimesblogs.latimes.com/pardonourdust/2008/03/do-it-yourself.html